Inside this Issue:
[toc]
OESC Portal
Do you know what OESC is and what this organization does for your school board? The acronym OESC stands for the Ontario Education Services Corporation.  This is a non-profit corporation and it is governed by all four trustee associations in the province and the Council of Directors of Education. The purpose of this corporation is to provide, at a reasonable cost, various services that school boards require.
One of the services offered by OESC for school board administrative staff is an online resource called the OESC Provincial Portal. This Portal is an electronic database for school board staff use that can be accessed directly from a link located at the top of any page on the OCSTA website.  The portal offers a wealth of information on school board labour matters and is an effective platform for related communications.  A key feature of the system are the interactive and responsive tools that support member feedback and the sharing of relevant information among platform users.
School board staff must have a distinct user name and password to access this Portal. If you do not have this Portal login information, please contact Pam DeNobrega at pdenobrega@ocsta.on.ca / (416) 932-9460.  To visit the portal click here.
Legislative and Ministry Updates
Bill 103, Protecting Students Act, has now begun second reading debates.  The Act amends the Ontario College of Teachers Act, 1996 with respect to discipline and other related matters.
PC Party News

The PCs have made changes in their cabinet – Lisa MacLeod (Nepean-Carleton) leaves the Education portfolio to become the Energy Critic and MPP Rob Leone (Cambridge) becomes the PCs new Education Critic.
following the recent PC Party Policy convention the party released their complete series of 16 policy white papers which can be viewed at 

http://www.ontariopc.com/white-papers

Liberal Party News

Last week the Liberal party launched an online consultation process called Common Ground (

http://commonground.ideascale.com/

).  The website uses a communications tactic called "crowdsourcing" to solicit (online) contributions from individuals regarding current issues and ideas.   A notice was sent out by OCSTA to members and partners to view the site and to contribute and comment on issues relevant to the support and protection of Catholic education.

Ministry of Education

The Ministry has established a set of consultation sessions to gather input on the government's education strategy going forward.  Consultations on the Ministry of Education's "Great to Excellent: The Next Phase of Ontario's Education Strategy" continue in regions throughout Ontario until October 24.  For dates and locations visit: 

http://www.edu.gov.on.ca/eng/about/excellent.html

.
January Professional Development Seminar
The next event for Catholic school boards on the OCSTA calendar is the Catholic Trustees' Professional Development Seminar being held January 17-18, 2014 at the International Plaza Hotel in Toronto (655 Dixon Rd.).
This event offers the opportunity for OCSTA members to:
Examine fresh perspectives on the Home-School-Parish opportunity, as presented by panelists representing parents, principals, parishes and trustees.
Participate in the presentation of the final module of the Trustee Training program sponsored by the Ministry of Education – Module 11: Conflict of Interest – a session examining quasi-judicial hearings and some legal aspects of governance.  More specifically this module will explore:

Public trust and the position of school board trustees
Trustee obligations and Conflict of Interest
The trustee's role in quasi-judicial hearings (student suspensions and expulsions)

Learn how Catholic School Trustees can leverage social media to advance board priorities; and
Network with trustee peers from across the province.
Early Bird rate (until December 6, 2013): $290 plus HST
Regular rate (after December 6, 2013): $310 plus HST
Student rate: $200 plus HST.
For more information and to register online please visit
https://www.ocsta.on.ca/2014-catholic-trustees-professional-development-seminar/ .
The Passing of Earl McCabe and James Sherlock
During the last few months we said good-bye to two former leaders in Catholic education who helped to shape the unique system we enjoy today.  The following news excerpts provide insight into the lives of former OCSTA president James Sherlock and former OCSTA Deputy Director, Earl McCabe.
From the Hamilton Spectator
Passages: School trustee helped Catholic board land full funding
James Vincent Sherlock — Aug. 13, 1933 — Aug. 31, 2013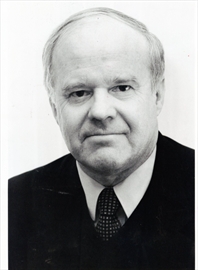 James Sherlock
Spectator file photo,Spectator file photo
James Sherlock was a longtime Halton Catholic School Board trustee who advocated for full funding of the Catholic system.
James Sherlock was a longtime Catholic school board trustee and administrator who played a role in the province's 1984 decision to extend full funding to Catholic high schools.
From 1986 to 1988, he played a role in implementing that funding across Ontario when he headed up the Completion Office — Separate Schools, created by Catholic school boards and bishops.
"He was one of the giants in terms of working toward that ultimate goal," said Pat Daly, chair of the Hamilton-Wentworth Catholic District School Board.
"He had a keen financial mind and he was clearly one of the leaders in the Catholic community in bringing that about. He was one of those people everyone looked up to, and not just locally, but trustees throughout the province."
For about 15 years through the 1960s and 1970s, Sherlock worked for what was then called the Hamilton-Wentworth Roman Catholic Separate School Board as a business administrator (he also spent a year with the Ministry of Education in 1974).
Between 1976 and 1979 he worked as a staff member for the Ontario Separate School Trustees' Association. He got elected in 1978 as a Burlington trustee on the Halton separate school board and from 1979 to 1993 served as a director and president of the OSSTA. He served for 22 years on the Halton board, including six as chair.
Sherlock lobbied the province to extend full funding to the Catholic system based on the 1867 BNA Act mention of "separate school rights."
At the time, the province only funded Catholic high schools to grades 9 and 10. The change came in June 1984, when Premier Bill Davis announced provincial funding for Catholic high schools would be extended to include grades 11, 12 and 13.
"That was huge," said Sherlock's son John Mark, 43. "That was one of his big drives. He used to tell me about Bill Davis. He told me Bill Davis was a classy guy. He told them they had a case."
Sherlock, who worked 1979 to 1999 as the business administrator of the Diocese of Hamilton, died Aug. 31 of cancer at the Carpenter Hospice in Burlington. He had just turned 80. His son said he had been ill for about two years.
Sherlock was one of eight children — six brothers, two sisters — born to John Joseph and Catherine Sherlock of Brantford. The couple was from hearty Irish stock that settled near Smiths Falls decades ago.
Sherlock attended St. Mary's School and Brantford Catholic High School. He attended St. Jerome's College in Waterloo, McMaster University and the University of Toronto. He obtained his master's degree in education at the latter.
John Mark said his father almost became a priest and went to a Quebec seminary in the early 1950s. He had to leave and return to Brantford when his father became ill.
Three of his brothers, however, went on to serve the church. John Michael Sherlock retired in 2002 from serving as the bishop of London since 1978, and Reverend Philip Sherlock, a former teacher at Cathedral Boys School in Hamilton, is now at St. Clement's Parish in Cambridge. The third, Reverend William Sherlock, died in 1981.
James Sherlock, after working in office jobs, was hired as a teacher-coach at Bishop Macdonell high school in Guelph in 1959. It was here where he met gym teacher Catherine Carere. They wed in 1966.
Sherlock also served with many agencies, such as the board of St. Joseph's Hospital, and received many plaudits, including an award of merit in 1994 from the OSSTA.
Diane Rabenda, chair of the Halton Catholic District School Board, called him "an extraordinary individual who made a lasting impression on all whom he met."
Retired Hamilton Bishop Anthony Tonnos (1984 to 2010) recalled Sherlock worked hard on the full funding question along with many other issues. He said he was a very caring person with a great sense of humour.
"He was an extremely honest and loyal man," said Tonnos. "Jim Sherlock was as honest as the day was long in every aspect of his life."
Sherlock is also survived by his wife Catherine, granddaughter Agnes Aurora, brothers Most Reverend John Michael, Gerald, Allan and Reverend Philip, sisters Mary Dool and Eleanor Monahan, plus many nieces and nephews.
**********************
The following excerpt from the Thunder Bay Chronicle Journal offers a poignant tribute to Earl McCabe, former Deputy Director of the Association when it was known as the Ontario Separate School Trustees' Association:
Earle M. McCabe
Published:
Tuesday, August 20, 2013
FEB. 3, 1931 – AUG. 18, 2013
M. Earle McCabe, age 82, passed away peacefully at his home with his daughters and family at his side, Sunday, August 18, 2013. Earle had recently relocated to Thunder Bay.
Born in Port Arthur, the son of Dorinda (Walsh) and Capt. N.Vincent McCabe, Earle attended St. Andrew's Separate School and went on to St. Paul's College in Winnipeg, and to Kings Business College. Married on August 31, 1957, to Madeleine Papineau, they welcomed the birth of their two daughters, Maureen Denise in 1959 and Margot Florence in 1963. Their home on Hinton Ave. and their camp at Sunnyside Beach were always places of welcome for family and friends.
Earle's business acumen followed him from his early days at Lowery's to Clerk of the Small Claims Court, to Administrative Manager at Carrel and Partners Law Firm, and culminated in his becoming Deputy Director of the Ontario Separate School Trustees Association. 
Earle was deeply committed to serving his community, particularly the advancement of Roman Catholic education. To this end, he served 22 years on the Port Arthur and Lakehead Separate School Boards, holding the office of Chairman for 10 years. He was also a Vice President of the Ontario Separate School Trustees Association. He relentlessly pursued the extension of separate school funding to include high schools, lobbying various levels of government until it came to fruition in 1984.
He was a member of the Knights of Columbus becoming Grand Knight of the Leo Council 1130, a charter member and officer of the Fourth Degree Father Baxter General Assembly and the Las Navas 152 Order of Alhambra. Passionate about politics, he served on the executives of both the Port Arthur provincial and federal Progressive Conservative Riding Associations and later continued his association in Toronto. He was president of the Sunnyside Campers Association and a member of the Board of Governors of the Lakehead Symphony. He avidly followed world politics and sports, particularly "his" Blue Jays!"